Future History Museum: Pioniere von Marzahn
29/04/2015 — 19/06/2015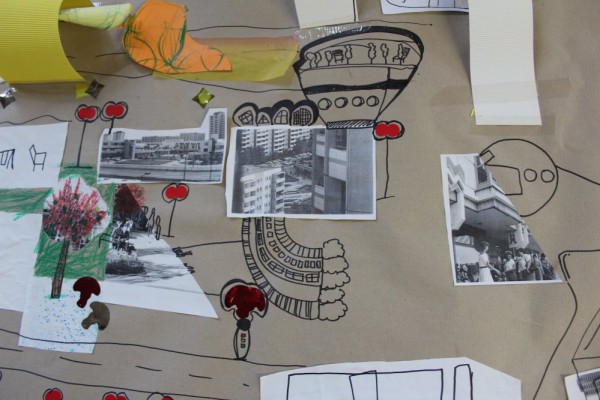 Inscribed Rituals – Bodies in Politics
A District exhibition at the Bezirksmuseum Marzahn-Hellersdorf
Building 2: Alt-Marzahn 55,
12685 Berlin
Opening 28 April 2015, 17–20 h
Opening hours Mo–Fr  11–17 h und So 11–17 h
The Future History Museum: Pioneers of Marzahn shows a constellation of texts, videos, drawings, sound recordings, surveys, banners and notations that have arisen from the artistic-performative engagement with Marzahn's socialist past undertaken by the art and educational initiative Pioneers of Marzahn.
The Bezirksmuseum Marzahn-Hellersdorf was the basis for the reinvestigation of local histories and their modes of presentation. The Future History Museum: Pioneers of Marzahn brings evidence of the artist-initiated re-imagination of history back in the museum. In unexplored proximities with archival documents from the district collection, the young "artifacts" put forth other stories and new relationships between history, the present, and the future.
The former 'Haus der Pioniere' (House of Pioneers) in Marzahn, which since the 1990s hosts contemporary forms of youth culture as a recreation club for children and teenagers, was the research center and setting for the local historical explorations. The building opened in 1988 as part of the Großsiedlung Marzahn , the largest socialist building project for housing in the DDR. For over six months Marzahn children worked with the artists and choreographers Juliane Schmidt, Anna Till, Emma Haugh and Emma Waltraudt Howes to search for traces of the former pioneers in their every day environment and among their fellows. As a part of the interdisciplinary art and performance project The Forgotten Pioneer Movement (2 October – 29 November 2014), the project The Pioneers of Marzahn: Inscribed Rituals – Bodies in Politics devotes itself  to a choreographic exploration of socialist ritual as well as everyday gestures and ways in which they are inscribed in corporeal memory.
With the artist Julian Schmidt and the choreographer Anna Till, a group of children developed a performance (performed on 9 November 2014 at the JFE FAIR) as well as a series of choreographies for different places along the Marzahn Promenade. The choreographically deconstructed political gestures, pop- and media-cultural bonds, and everyday movements that have been collected over the course of the research process from interviews, films, books, and objects were transferred by the children into choreographic script to open them to new perspectives and active re-considerations. In a critical engagement with the rigorously choreographed, ideological appearances of socialist pioneers in public space, a second group of children have developed future visions of Marzahn with the arists Emma Haugh und Emma Waltraud Howes—envisioning  wild gangs called TIGA and HERZ that are driven by children's desires. In this second part of Future History Museum Marzahn, history is conceived as a performative, visual narrative for an imaginary museum of the future.
An art and educational project within the framework of The Forgotten Pioneer Movement.
Exhibition architecture: Lorenzo Sandoval, dissident desire, 2013.