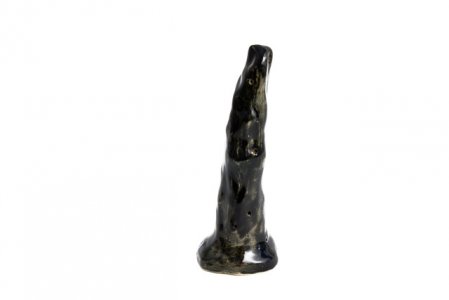 Hella Gerlach (*1977) produces ephemeral artworks out of porcelain, ceramics and industrially manufactured materials such as cotton, polyester and viscose. Her sculptures recall the theory of embodiment, which underscores the physical, epistemological and situative aspects of subjectification. According to art historian Marsha Meskimmon, embodied subjectivities are relational and only take shape through physical contact with other human and non-human bodies in the world.
Hella Gerlach's sculptural and architectural bodies seem to wait patiently for situations of interaction and exchange; her artworks, such as the spiky-legged Geselle IV (2011) or Teil für Drei, zum Luftmelken (2011) demonstrate an openness and hospitality that claim a right to contact other entities and the body of space almost "naturally". Her site-specific interventions, prostheses and objects like "Element VIII (Säule)" (2012) or "Das neue needy" (2012) invite the viewer to explore the abstractions of intercorporeality (Maurice Merleau-Ponty, Gail Weiss) on a performative level. In Hella Gerlach's installations, moments of emergence and contact counter the frozen institutional choreographies of art production, display and reception, for example in her recent project Backstage (Pomander chance) (2012) at the Kunsthaus Dresden.
Hella Gerlach's (* 1977) work has been shown at STUDIO Berlin, Germany (2011), Kunstwerke Berlin, Germany (2011), Kunstverein Hamburg, Germany (2010), Mark Morgan Perez Garage, Buenos Aires, Argentina(2010), St Michael, Cologne, Germany (2010), Silberkuppe Berlin, Germany (2009), Bonner Kunstverein, Germany (2006) and Kunstpavillon Innsbruck, Austria (2006).
Since 2009 she has been running the mobile exhibition project DIE FUGE in which she uses her own artistic work as a point of departure to create opportunities for dialogues, experiments and presentations in co-operation with other artists and guests.
Hella Gerlach is a co-editor of the magazine SKULPI (2010), the initiator of the project WHEELY (2005-2007) as well as a curator at the collective Simultanhalle, Cologne, Germany (2003-2006).
She lives and works in Berlin.