Zeljka Blaksic a.k.a. Gita Blak – Studio Grant 2013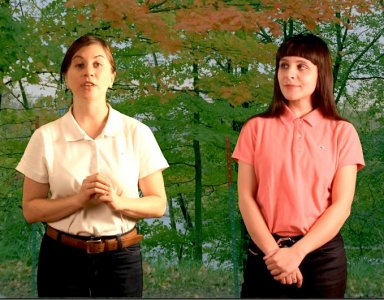 Despite their overt heterogeneity and playfulness, the works of Croatian video artist and performer Zeljka Blaksic (a.k.a. Gita Blak) rigorously pursue a topical interest located at the crossing of mobility, media and practices of remembrance.
Blaksic formulates her early work Please don't forget (2009) as a video diary of a trip through Poland and the Ukraine: while as a material document it seems to escape oblivion, her documentation of a touristic endeavour highlights the difference between medial and "living" memory and questions the visibility of processes of disremembrance in post-socialist everyday live.
Being a re-enacted song by Madonna, Hollywood (2009) invokes the amnesia at the core of the global cultural industry ("I lost my memory in hollywood"), as the global voyages of an American tourist called Christina are captured in the found footage of Christina's World (2012). The work's title is evocative of Andrew Wyeth's famous 1948 painting by the same name showing a young paralyzed woman: relating the immobility of the one to the mobility of the other Christina, Blaksic establishes a contrasting relation between a journey involuntarily confined to the spot and the frantic stagnation of travelling in the American empire.
As a video artist, Blaksic frequently works with found materials which might also feature autobiographical references (Prelude, 2010) and cultivates a pre-digital aesthetics occasionally intruded by early digitality and smoothly borrowing from trash- and internet-cultures (Not your rabbit, 2010). In her most recent work Whisper-Talk-Sing-Scream (2012), she combines the research into the musical culture of 20th century protest movements with the search for modes of activism for the 21st century.
Zeljka Blaksic (*Zagreb, Crotatia) received her degree of the School of Visual Arts in New York, USA. Blaksic as of late exhibited her works amongst others at the Khyber Centre for the Arts, Halifax/CA (2013), at SESI Gallery, Sao Paulo (2012) and at Bushwick Open Studios (2012); collaborating with Moyi Zhang and Elizabeth Tolson, she curated the show "End to End" at the Harvestwork Digital Arts Centre, New York (2011). In 2010 she received SVA's Paula Rhodes Memorial Award.
She lives and works in New York, USA.
More information
Website Zeljka Blaksic a.k.a. Gita Blak