Julian Weber: constructing ruins
10/11/2015 — 11/11/2015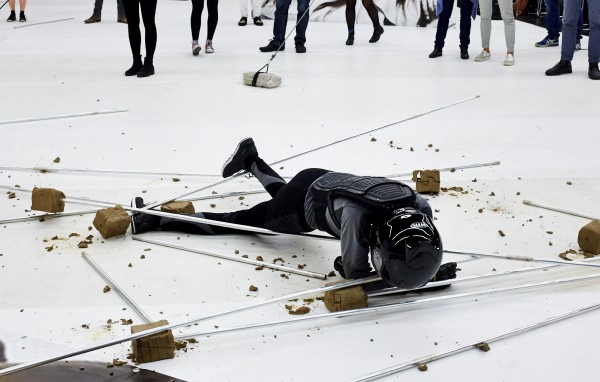 Tanzfabrik Berlin in den Uferstudios / Studio 5
Uferstr. 23, 13357 Berlin
Performance
10 November 2015, 20.30 h
11 November 2015, 20.30 h
Tickets:14/9 Euro
Exhibition
10 November 2015, 17–20 h
11 November 2015, 17–20 h
Free of charge
In the framework of Open Spaces, Tanzfabrik, in cooperation with District, presents the first part of Julian Weber's interdisciplinary performance project constructing ruins. In dialogue with musician Tarren Johnson, Julian Weber's constructing ruins interlaces sculpture and dance, exhibition display and stage. Fathoming the force field among bodies animate and inanimate, the performers bring architectures to collapse and construct fleeting moments between touch and earthquake. The different materialities, animacies and temporalities of the structures and bodies present create resonances which question the intangibility of the surrounding space. Conventions of role and (re)presentation become fluid, giving way to a performative landscape. Within constructing ruins, dance is described as constellation in motion, emerging from the relationship of all the attendants – performers, artefacts and the audiences alike – and leaving traces.
After the project's further development District will show constructing ruins as an exhibition project activated by a collective of performers around Julian Weber, in spring 2016.
Choreography, dance, scenography: Julian Weber | Music, dance: Tarren Johnson | Light: Annegret Schalke | Scenographic assistance: Fabio Cirillo | Dance: Enrico Ticconi, Ivan Ekemark | Production: Andrea Keppler, Janine Halka, District Berlin | This production is supported by Nationales Performance Netz (NPN) and Koproduktionsförderung Tanz from funds of the Federal Government's Commissioner for Culture and Media on the basis of a resolution of the German Federal Parliament, and Tanzfabrik Berlin, District Berlin, Brut Wien.
Julian Weber is a choreographer/dancer and visual artist. He studied at HBK Brunswick and Academy of Arts Vienna. 2013 he graduated in dance and choreography at HZT, Berlin. Since then he works intensively on spaces of interaction involving body, material and movement. In the last years he took part in several group exhibitions, had different residences abroad and developed performances and exhibitions. He works with artists like Meg Stuart, Boris Charmatz and Tino Segahl and creates his own work on the intersection of visual and performance art.
In FORMEN FORMEN (Sophiensäle Berlin, 2015) he choreographed five dancers (among others Meg Stuart, Nik Haffner and Peter Pleyer) who influenced him in his artistic development in interrelation to minimal sculptures. In the tourist he confronts an exhibition setting with an amorphous and mobile stage-situation consisting of dancers and sculptures and won the Berlin Art Prize 2015. Currently he is studying in the master program Choreography at the Theaterschool Amsterdam.