N*A*I*L*S CALL FOR DONATIONS IN SOLIDARITY WITH YEN LE
17/08/2021 — 30/09/2021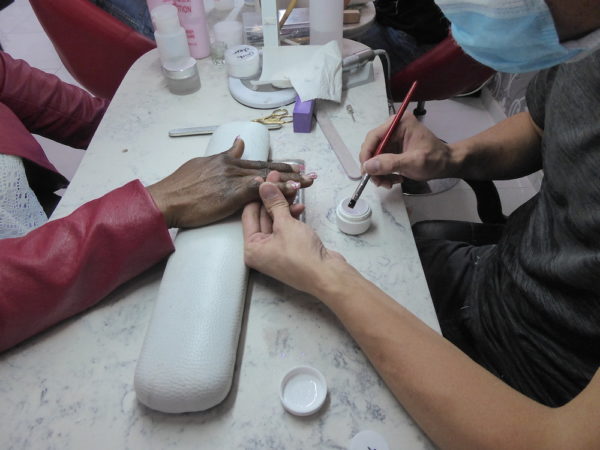 Campaign on gofundme
Nail Design School / Community Center threatened to be evicted from Dong Xuan Center
After a year of terrible losses due to the corona pandemic, the Le Nails Education Center founded by the nail designer Yen Le is faced with ruin. By the end of the year, Berlin building authorities are threatening to withdraw the permits that have been granted for decades to all companies based in the Dong Xuan Center, that do not operate wholesales.
The owner of the Dong Xuan Center is now threatening Yen Le with ending her contract and eviction by the end of August due to pandemic-related rent arrears. Yen Le has been waiting for months for the "corona bridge aid" she applied for, which would cover the rental costs from November 2020 to June 2021 inclusive.
The Le Nails Education Center is a nail design and cosmetics school in the Dong Xuan Center in Berlin Lichtenberg. Yen Le has been running the school since March 2018, which is primarily aimed at young migrants from Vietnam who are new to Berlin. The school is therefore much more than just a training facility. It is a community center in the middle of a grown space of migrant communities and cultures in Lichtenberg.
Technical and everyday knowledge, connections and bridges, support and perspectives are conveyed and exchanged here. In association with various cultural actors and initiatives, the Le Nails Education Center is an important place for encounters, discussions, workshops, artistic work, critical knowledge production and translations in the Dong Xuan Center.
Yen Le herself came to Germany as a contract worker during GDR in the 1980s, and initially worked as a tailor in Dresden. She has built a living for herself and her family in Berlin since the 1990s. For years she has been running the Le Nails nail and cosmetic salon on Monbijouplatz in Berlin Mitte. The school lives from the experiences of her work, their struggles and their solidarity.
Apart from the Dong Xuan Center situation, Yen Le found out this month, that her lease for her nail salon on Monbijouplatz will not be extended after 6 years and that she will have to give up the space in November 2021. Not only is the school, in which she has invested a lot, is at risk, but Yen Les's entire livelihood is acutely at risk.
We collect donations to:
1. to cover the acute school rent (1,700 euros per month) for the months of July, August and September,
2. to avoid the eviction at least until the end of the year, which means we need to cover costs for legal advice and for renting the school from October to December.
Please donate via
* paypal: post@district-berlin.com
* bank transfer
Account: Commerzbank Berlin
Receiver: District gGmbH
IBAN: DE35 1004 0000 0330 3484 00
BIC: COBADEFFXXX
with the title: Le Nails
We can issue official donation receipts for tax redemptions. Email us: school@district-berlin.com
N*A*I*L*S hacks*facts*fictions is an open group of beauticians; artists; care, cultural and social workers; activists; learners; translators; educators; and curators. As an artistic platform for critical body and care cultures, N*A*I*L* S thinks of (and further) the nail art/cosmetic salon as a queer site of trans*cultural practices and solidarity connections. Yen Le, her school and N*A*I*L*S have been connected through numerous forms of exchange and collaboration since 2018.