Raumschiff Marzahn
24/08/2015 — 10/08/2016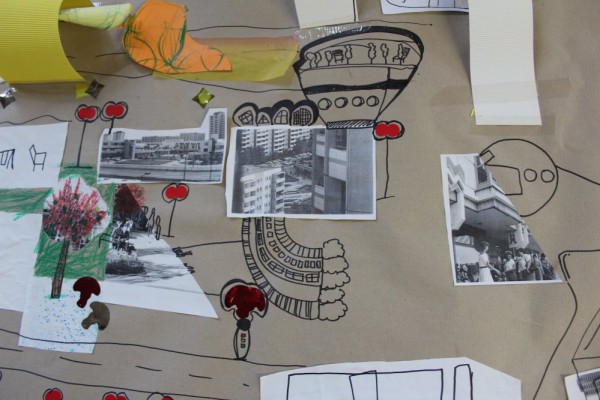 AAArchitecture #10: An educational art, architecture, music and performance project
Artists: Camilla M. Feher & Chryssa Tsampazi, Sonja Gerdes and Emma Haugh; Project Manager: Janine Halka
31 October 2015, 30 March, 19 April 2016
"Why, however, is language supposed to be the "home of being", the place of revelations, not practical experience? And why language alone? Why not music also (…)"  Henri Lefebvre
Raumschiff (Spaceship) Marzahn is an educational art project with the aim to explore urban spaces of transformation. Focusing on public space as a place for learning and creating narratives, artists and children from Marzahn examine the architecture of large estate Marzahn-Hellersdorf. Interlacing performance, music, sculpture and photography, addressing the specific design of the "socialist city" is central to the approach. Marzahn as a futuristic project – envisioned as a new settlement for "new" people – serves both as a stage of urban transformation as well as a real-fictional urban environment.
With the help of different artistic practices, the children appropriate the satellite city as the starting point for futuristic narratives and performative rearrangements. In focused sensual and aesthetic expeditions, research episodes, archival work and workshops, the perspective on their surroundings becomes that of the future. Visions past and present materialize in specific architectures where (hi)stories, sounds and shapes are gathered. Through this process, the participants become young city researchers and engineers of their own urban utopias.
24 August 2015–31 August 2016
DREAMING OF SPACES
Installations by Camilla M. Feher, Sonja Gerdes and Emma Haugh in public space in Marzahn
Curated by Janine Halka
A District exhibition parcour in cooperation with Galerie M
1–3 August 2016
Landing Site / Information Output
Galerie M
Marzahner Promenade 46, Berlin 12679
Opening times: Monday – Friday 12–18 h, 
Sunday 10–18 h
Opening 31 July 2016
16 h  exhibition parcour tour departing from Galerie M
18 h  film screening: Insel der Schwäne (1983)
Dreaming of Spaces, an exhibition parcour in open space, takes place along selected locations in Marzahn Mitte. It is the conclusion of the multi-part artistic education project Spaceship Marzahn. During this yearlong art and architecture project dedicated to researching spaces of urban transformation, artists and children from Marzahn examined the architecture of the large-scale housing project Marzahn-Hellersdorf. The interweaving of performance, music, sculpture, and photography focused on grappling with specific constructions of the "socialist city." As a futuristic project, Marzahn — conceived as a new settlement for "new" people — was both a concrete stage for urban transformation and a starting point for forward-looking narratives and performative restructuring.