Trùng Mù – White Mist in Foreign Country
18/04/2019 — 02/06/2019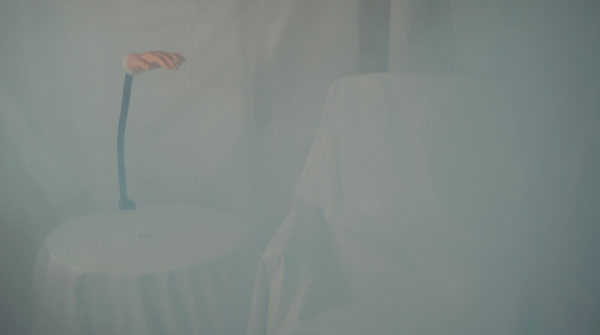 An installation by Nguyen Phuong Linh

co-inhabited by
In One's Breath–Nothing Stands Still by Tuan Mami
Memory Of The Blind Elephant by Nguyen Phuong Linh
Blue Flamez by Kim Bode
NAILS hacks*facts*fictions collaborative publication and gatherings
Curated by Suza Husse / NAILS hacks*facts*fictions in the frame of Caring for Conflict. Funded by Projektfonds Kulturelle Bildung and ifa
18 April 2019: 7 pm Exhibition opening; 8.30 pm launch of NAILS*hacks*facts*fictions collaborative publication
Opening hours of the exhibition: Wednesday to Friday, 3-7 pm
Trùng Mù (Endless, Sightless) begins behind a curtain patterned with foliage: a cyborgian figure is bent over a second body to engage in some facial operation. Their interaction is accompanied by the repetitive sound of a laser machine for the removal of dark pigmentation in the human skin, which sound binds the visual and temporal movements of the whole film. Oscillating between different intensities of blurring, blinding, and obfuscating the images it creates, the video drama by Nguyen Phuong Linh slowly unfolds a generic and timeless space of cosmetic technology. From the choreography of textiles and textures, of material and gaseous states, of human and non-human bodies, the beauty salon emerges as a manifestation of care and conflict in capitalism; of corpofictions formed in migrant labor, and global toxic bonds.
In a somewhat dusty and low-tech way, the uncanny scenery of Trùng Mù references the clinical whiteness that connects the laboratories of space travel, warfare, and bio-chemical experimentation. Thus, the work seems to suggest cosmetics as an alternative historical paradigm for understanding the post-colonial and post-socialist relationships between the bodies, architectures and environments. While diverse agents of labor populate Trùng Mù, its protagonist is a white fog. The fog of the cosmetic salon is one of toxic fumes, of skin and nail dissolved into particles filling the air, a cloud of potential contamination. Phuong Linh's fog enables the film to move through different registers of opacity and to insist on occupying the thresholds of what seems to be barely visible or moving. Here – in the interstices of a nowhere that is everywhere – her work finds openings into realms of experience and history shaped by queer and diasporic subjectivities.
The exhibition Trùng Mù – White Mist in Foreign Country proposes Trúng Mú's white mist as a medium of contamination and toxicity – of toxic bonds that connect experiences of life, death and states in-between across different geographies, ecologies and histories. To approach some of these toxic bonds, which Mel Y. Chen proposes as affective and material relations that queer hierarchies of animacy, the installation is a space co-inhabited by two works that bind the environmental figure of Trúng Mú's white fog to the micro-particles and atmospheres of ecologies haunted by coloniality and by extracitivism in Vietnam: In Tuan Mami's film In One's Breath – Nothing Stands Still (2019) white dust arrives in the air and streams from exploded mountains in the ancient forest areas of Hà Nam in North Vietnam recently designated for stone mining. As an ongoing body of work In One's Breath – Nothing Stands Still is based on the artist's involvement in his ancestral land, culture and spirituality* and the forms of loss, suffering, resistance and survival of its more than human communities in the wake of accelerating extraction. Phuong Linh's film Memory of the Blind Elephant (2014-2016) navigates the environment of a domesticated elephant who is part of an entanglement of life in the post-colonial ecologies in Central and Southern Vietnam. Rubber trees in large plantations, insects, humans, lizards, streams and machines are the other intersections of histories, technologies and becoming which her film connects with the white choreographies of rubber processing and the mechanics of 'land reorganization' since French colonization. Roots whose wounds are filled with white liquid protrude from the earth turned upside down by excavators. Fingery and sticky they seem to call for re-connections while casting a spell over the square plane that is to emerge as a privatized 'virgin site' for construction or plantation. *
Trùng Mù is part of a series of researches, conversations, visual studies and art works under the title White Mist in Foreign Country which Phuong Linh is developing since she moved from Hanoi to Frankfurt for art studies in 2015. The series took its departure from friendships and shared experiences with women from Vietnamese diaspora working in nail salons there. These exchanges resulted in Phuong Linh's work as a nail model in several salons and inspired a first video study in 2016 and later Trùng Mù (Endless, Sightless) in 2018. The wallpaper collage White Mist in Foreign Country made for the installation at District and the publication NAILS*hacks*facts*fictions are traces of the continuation of her artistic and situated engagement with the histories, psychoscapes and ecologies of Vietnamese migration in Berlin. Since 2017 Phuong Linh's work in Berlin has been shaped by the encounters with Uncle Hieu in and around the social housing high-rises and Springpfuhl park built in the 1980s in Berlin Marzahn. Hieu is the uncle of the artist Nguyen Quoc Than, another member of Nhà Sàn Collective. In 2018 Hieu and Phuong Linh began to collaborate on a work that would connect the histories, fantasies and facts of Hieu's migration to Berlin as a young man with his family and their life in the late GDR, the 1990s and until today with the intimacies, violences, struggles and appropriations inscribed into the socialist architecture, urban ecologies and sculptures of Hieu's Springpfuhl neighborhood. In Phuong Linh's collage her nail design modeling hand reaches in through Hieu's apartment window in a landscape filled with signifiers of diasporic domesticity, European fictions, socialist bold sculptural femminity and migrant body labor. As health issues have interrupted their collaboration, the collage stands in as a trace for their future work.
Phuong Linh's White Mist in Foreign Country research co-inspired the founding and work of the transdisciplinary research group NAILS*hacks*facts*fictions whose collaborative publication is presented as part of the exhibition. Another portal for multiple toxic, queer and diasporic bonds,  NAILS*hacks*facts*fictions imagines the nail salon as a site of critical, trans-cultural practices and intersectional care politics. Through the collected essays, interviews, collages and art works, nails are approached as a collective interface for getting in touch with the conditions liquefied in nail aesthetics and embodied in care work. An interface that is for hacking the 'magic' of commodity, for troubling biopolitics. Read more about the publication
Text by Suza Husse
* The project In One's Breath – Nothing Stands Still borrows its inspiration from the ancient Mường epic 'Đẻ đất đẻ nước' (The Birth of Soil and Water). The Mường are an indigenous people native to Vietnam (the country's third largest of 53 ethnic minorities) inhabiting the mountainous region of northern Vietnam.
* Like Trúng Mú, these two works were nurtured in the surroundings of artistic and political collectivity, experimentation, ongoingness and conflict of the Hanoi based Nhá Sán collective and independent space that both Tuan Mami and Phuong Linh are part of.
Trùng Mù – White Mist in Foreign Country / NAILS*hacks*facts*fictions takes place in the frame of Caring for Conflict, an intersectional art and education project initiated by District Berlin and Institute for Queer Theory, funded by Projektfonds Kulturelle Bildung.
NAILS*hacks*facts*fictions are currently Anisha Müller, Anna Ehrenstein, Ayşe Güleç, DAMN / Deutsche Asiat*innen Make Noise, Dovilè Aleksaitè, Jinran Ha, Johanna Michel, Katja Kobolt, Kim Bode, Liane Aviram, Suza Husse, Thao Ho, Yen Le, Vicky Truong. Core team Caring for Conflict: Nuray Demir, Suza Husse, Ani Lachnitt. Volontärin: Lilian Bocksch. Curatorial team District: Nuray Demir, Nino Halka, Naomi Hennig, Suza Husse, Andrea C. Keppler, Ferdiansyah Thajib. Communication: Magda Albrecht, Johanna Ekenhorst. Finances: Anneli Schütz. Technical production: Anne Hierzi and Winnie Olbrich  / Oax Constructions. Assistance: Konstantina Athinaiou, Liane Aviram.
Trùng Mù – White Mist in Foreign Country is supported by ifa (Institut für Auslandsbeziehungen).