House of Kal Karachi
02/09/2021 — 09/09/2021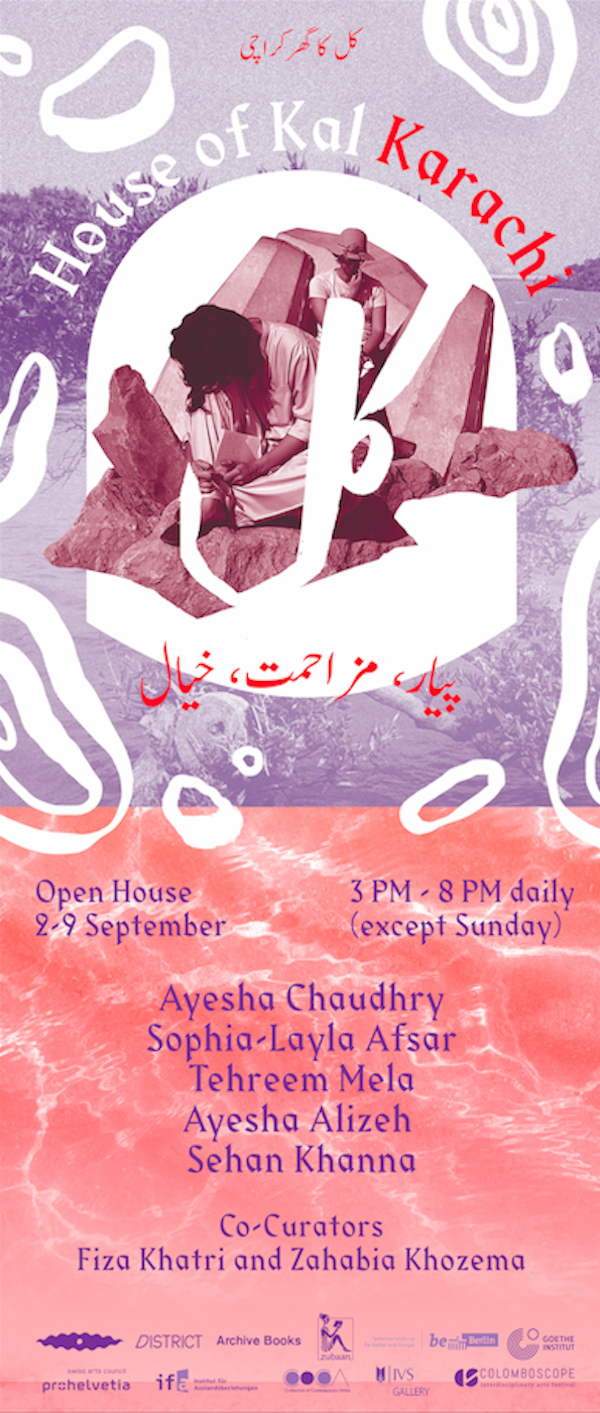 Zubaan Books, Veera Rustomji, Vera Ryser, The Many Headed Hydra, Tehreem Mela, Suza Husse, SS Beben, Shahana Rajani & Zahra Malkani, Sandev Handy, Sadia Khatri, Sophia Balagamwala, Sehan Khanna, Sophia-Layla Afsar, Seher Naveed, Sajan Kumar, radio kal, Omer Wasim, Jeanne Penjan Lassus, Fiza Khatri, Fatimah Asghar, Emma Wolf Haugh, Aziz Sohail, Aziza Ahmad, Archive Books, A Frei, Ayesha Chaudhry, Ayesha Alizeh, Abdul Muhammad, Muhammad Afaq, kal rituals, Promona Sengupta, Zahabia Khozema, Majeed Motani, Fatima Majeed, Ammara Jabbar, Yashfeen Talpur, Ayesha Tariq, Printmaking Studio at IVS and guests.
House of Kal Karachi is a stream of a language where yesterday and tomorrow are the same word. kal
co-curated by Fiza Khatri and Zahabia Khozema in conversation with Aziz Sohail, The Many Headed Hydra, Sakina Aliakbar and Sandev Handy.
33rd St، Scheme 5، Block 2 Clifton, Karachi, 75600, Pakistan
* * * Residents * * * 
Ayesha Chaudhry (she/her)
Ayesha works with video, textile, painting and installation to explore moments of care and community in everyday life. Through an experimental and ever-changing practice, she focuses on representing the possibility of intimacy within resistance. She is expected to receive her BFA from Goldsmiths in 2023.
Sophia-Layla Afsar (she/her)
Sophia-Layla Afsar is a lawyer turned therapist and artist. Her art blends trans and neurodivergent activism, emotional care, and play. She uses playful props and opacity to create interactive situations that explore trans and neurodivergent perspectives. By simultaneously withholding information and providing care for more privileged visitors, her situations highlight how expectations of disclosure and emotional labour are means of exploitation of marginalized folks.
Tehreem Mela (she/her)
Tehreem Mela explores her own relationship with Sargodha's feudal and colonial history through an engagement with video, paint and photography. She is particularly interested in the central position of the white voices in depicting the colony and juxtaposes it with local, personal and familial narratives from her village, expanding into broader South Asia. In 2021, Mela documented graveyards and shrines in Karachi, exploring the multiplicity of grief and time through collage.
Alizeh Ayesha (she/her)
Ayesha Alizeh is a writer, architect and artist and is interested in questions related to space, politics, gender. Alizeh was shortlisted for the Zeenat Haroon Rashid Writing Prize 2020 for her non-fiction essay 'Bad House.' She graduated with a BA in Architecture from Indus Valley School of Art and Architecture in 2019.
Sehan Khanna (they/them)
Originally from Tando Muhammad Khan, Sehan Khanna are currently based in Karachi for their BFA in Architecture (Class of 2025) at Indus Valley School of Art and Architecture. A writer and performance artist, they have extensively written about their experience of being a queer person in Sindh. Through their performances, they explore possibilities of acceptance and healing in relationship to personal trauma with a focus on bringing community together to create shared empathy.
* * * Workshops * * *
At Indus Valley School of Art and Architecture
Karachi Radical Tour with Shahana Rajani
4 September, 10 am – 2 pm (by invitation only)
The Karachi Radical Tour enables an understanding of the city beyond static colonial and post-colonial architecture by highlighting its spaces and histories of struggle. This tour refuses the easy narratives made available to us by official histories and building projects. We will visit D.J. Science College, Empress Market, the Ratan Talao Gurdwara and Quaid's Mazar to engage with forgotten histories that make visible the erasure and marginalization that were inherent to the 'developing' of the city and nation-state.
Holding Space for Queer and Trans Grief with Sophia-Layla Afsar and Aesha Munaf
4 September, 4 pm – 6 pm, register through: kalkarachi@gmail.com
Recent public discussions of patriarchal violence in Pakistan have largely been silent on violence against queer and trans folks. This highlights double discrimination: violence by cis men and erasure by cis feminists. In this private session, we'll be creating and holding space for queer & trans grief. Not just grieving those who were killed but also the loss of what was. The loss of what might have been. The loss of what never will be.
Zine Making Workshop with Sophia Balagamwala and Tehreem Mela
7 September, 5 pm – 7:30 pm, register through: kalkarachi@gmail.com
Zines are self-published publications, created as an alternative to mainstream publishing. They have historically, and continue to exist as a popular format of information, art, experimentation, and activism. This workshop will look at zine making practices in South Asia, with a focus on feminist and queer practices. Workshop participants will be led through a series of short exercises and have the opportunity to create their own zine. Please bring (1) An object or photograph you'd like to explore through this workshop (2) Anything you'd like to include in your zine such as magazine clippings, photocopies, photographs or original drawings.
* * * Gatherings and conversations * * *
At Indus Valley School of Art and Architecture
To make our gatherings as safe as possible amidst the ongoing COVID-19 pandemic, we kindly ask everyone to join with a mask. Food will only be served outside in the courtyard.
celebration ceremony for House of Kal Karachi
02 September, 3 pm – 8 pm
with works and offerings by Ayesha Chaudhry, Sehan Khanna, Sophia-Layla Afsar, Tehreem Mela, Ayesha Alizeh, kal RITUALS and invited co-makers, guests and friends.
Potentialities of Feminist World Building in Pakistan: A conversation with Zoya Gul Hasan, Yusra Alvi and Abira Ashfaq, moderated by Ayesha Alizeh
05 September, 5 pm – 7 pm. This talk will take place online via Zoom. Registration link:  https://zoom.us/meeting/register/tJ0kfumurD4pEtQUP9NZhcRwszDHV7LobUsh
Bringing together historians, architects and activists from Lahore and Karachi, this conversation explores architecture and space-making and its relationship to gender in Pakistan. Thinking through both the history of the zenana outside of the harem in Mughal India and the impact of colonial architecture on marginilised genders and bringing the conversation to the present movement of feminist world building and justice making, this conversation will imagine the future of feminist architectures and spaces in Pakistan.
Artist Talks by Tehreem Mela and Sophia-Layla Afsar, moderated by Aziz Sohail
06 September, 6 pm – 7:30 pm
Sharing Circle with Sehan Khanna, Arham Bhaiji and Surkh Hina
09 September, 5 pm – 6:30 pm
This sharing circle is a celebration of the space we have co-created throughout the open house. Some conversations require a safe space and we aim to make this castle a space where people feel comfortable sharing their work. Surkh Hina, Arham Bhaiji and Sehan Khanna start us off by sharing some of their writings and the audience is invited to share their work if they are comfortable.
Artist Talks by Ayesha Alizeh and Zahabia Khozema, moderated by Aziz Sohail
09 September, 6:30 pm – 8 pm
* * * Performances * * *
At Indus Valley School of Art and Architecture
Hum Meri Jaan (We My Beloved) Performance by Sehan Khanna
02 September 3 – 8 pm & 06 September 4 – 6 pm
Adaab,
Tumhe nahin lagta
Hum pehle se ek dusre ko jaante hain
Salam, Han shayad

Chalo kahin aur chalte hain

Par kahan?
Bana lenge koi jaga
Sirf hum, Meri jaan
Nahin,

Hum, Meri jaan
In spaces we created we were stuck in our own biases and discomforts. There was a need for them to see me and live me the way I want it to be. Except do we actually have that answer?
I don't, but I wanted her to know.
Pareshan kyun ho rahe ho?
Dhoondh lenge hum, hum
Say Their Names
02 September 3 pm – 8 pm
During the opening gathering Sophia-Layla Afsar, Sardara, and Shani will be making black armbands commemorating the names of murdered trans women in Pakistan. We invite you to take one and tie it around your arm.
We will also be posting the names around the neighbourhood of the Open House.
Never forget.
Milna Julna: A cloth weaving & reading session led by Ayesha Chaudhry
03 September & 08 September, 5 – 7 pm, register through kalkarachi@gmail.com
We will collectively construct a piece of cloth, symbolic of care and made with feminist and anti-capitalist intention. During the session we will read and listen to excerpts from writing and music around care within resistance (however you may interpret this) while we co-weave pieces of fabric brought in by the participants. To participate, bring a piece of writing/music & fabric that you would like to add and contribute to this collective making. In addition to the scheduled co-creating sessions, this is an ongoing work that everyone is encouraged to add to during their visit to the open house.
پیار، مزاحمت، خیال
a co-created shared space bringing together works by the House of Kal Karachi residents, The Many Headed Hydra's "Rituals" soft architecture by Emma Wolf Haugh, and offerings from the kal RITUALS publications as well as traces of drawing and writing workshops, field visits and invited guests and friends.
2 September – 9 September, Open from 3 pm – 8 pm
Indus Valley School of Art and Architecture Gallery
It is inherently queer and feminist to flatten heirarchy and democratise a space. Since this May, we have been offering collective care, staying with the mundane and the present, rupturing and repairing, un-making, re-considering, and thieving. We welcome you to climb down into our space and meet us where we are.
a language where yesterday and tomorrow are the same word. Kal.
A trans*oceanic platform for slow approaches, performative interventions and poetic strategies in visual and literary forms, a language where yesterday and tomorrow are the same word. Kal traces decolonial and feminist futures and pasts that are connected through bodies of water lapping at different shorelines.
Gathering artists and writers from South Asia, the South Asian diaspora and post-/migrant Europe, kal unfolds in multiple strands including a DIY radio channel called radio kal, the three Houses of Kal – a constellation of feminist infrastructures for transdiciplinary and collaborative art practices & alternative pedagogies in Karachi, Colombo and Berlin –  and a series of publications.
The title takes inspiration from Fatimah Asghar's poetic invocation of the Hindi-Urdu word کل  [kəl̪]. Expressing a time beyond the here and now, the meaning of 'kal' moves fluidly and shifts its meaning based on who speaks, from where and when.
As kal unfolds in extended pandemic time, amidst deep ecological and social transformations, Thinking of the body as a site of memory and of speculation. kal looks towards forgotten and imagined ways of living and dying together on earth that disrupt binary contours of time or being. kal unfolds in trans*territorial alliances and queer world building in extended pandemic time, amidst deep ecological and social transformations. The fabulation and embodiment of ancient and futurist ecologies/cultures are an expression of anti-racist, anti-fascist resistance and joy.
a language where yesterday and tomorrow are the same word. kal is co-initiated by Aziz Sohail and The Many Headed Hydra. The Houses of Kal are curated and cared for collectively by Aziz Sohail, Fiza Khatri, Sandev Handy, The Many Headed Hydra with Sakina Aliakbar, Zahabia Khozema and the teams of District*School Without Center and Indus Valley School of Art and Architecture.
This trans*oceanic platform is a collaboration with Archive Books, COCA Collective Colombo, District*School Without Center, Goethe Institut Sri Lanka, Goethe Institut Pakistan, IVS Gallery Karachi, Zubaan Books and Colomboscope; supported by the Department for Culture and Europe in the Berlin Senate, Goethe Institut South Asia, the Swiss Arts Council Pro Helvetia, and ifa.
Team House of Kal Karachi: Ayesha Chaudhry, Ayesha Alizeh, Tehreem Mela, Sophia-Layla Afsar, Sehan Khanna, Seher Naveed, Abdul Muhammad, Muhammad Afaq, Sajan Kumar, Raees, Younus, Zahabia Khozema, Fiza Khatri, Aziz Sohail, Zoya Ahmed, Huma Tasawwar.
House of Kal Karachi unfolds in trans*oceanic correspondences and collaboration with the Houses of Kal Berlin and Colombo. Each of these spaces bring together art practitioners whose work explores feminist, anti racist, anti fascist and queer possibility.
House of Kal Colombo residents are Chathuri Nissansala, Vicky Shahjehan, Vasi Udurawane, Veenadari Lakshika, Hema Shironi & Sabeen Omar with curators Sandev Handy and Sakina Aliakbar. House of Kal Berlin residents are Promona Sengupta, Venuri Perera and Arshia Fatima Haq.