Caring for Conflict
01/07/2017 — 30/06/2019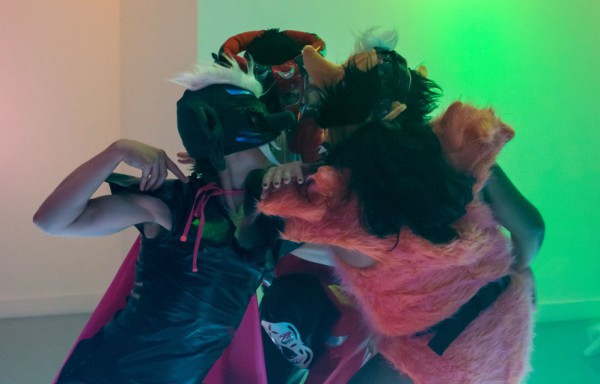 A Cultural Education Project for young people between 12 and 27 years
Conflict zones, belligerence, the joy of irritation, quarreling techniques, utopias of disagreement: How to live conflicts? What can we learn from each other to respond in conflicts with more than silence or aggression? How do different experiences connect to new forms of quarrel? With Caring for Conflict we are searching for queer cultures of conflict, for possibilities to fight together: against injustice, inequality, and violence. To this end, the subprojects Geheimsprachen/Gemeinsprachen, Streitbauten, Night Sweats and Alphabet of Conflicts combine practices from art, theater, music, media production architecture, and scenography. In the event series Saal Lun*, on the online blog that accompanies the project, and in the closing festival the cultures of conflict we will have found will be shared and extended.
With María del Mar do Castro Varela, Aïcha Diallo, Antke Engel, Janine Halka, Suza Husse, Andrea Caroline Keppler, Anika Lachnitt, Sandra Selimovic, Simonida Selimovic, Naomi Rincon Gallardo, Lorenzo Sandoval, Eva Storms, Ferdiansyah Thajib, Tali Tiller, Angelika Tsaros and others.
Partners: KontextSchule, Alice Salomon Hochschule, i-Päd – intersektionale Pädagogik, Alfred-Nobel-Schule, Rückert-Gymnasium, Cafe Maggie / Gangway e.V., MÄDEA – Interkulturelles Zentrum für Mädchen und junge Frauen , Fresh 30, HELLA Klub for girls* and young women*
A cooperation of District Berlin and the Institut for Queer Theory, funded by the Berlin Fund for Participatory Arts Projects.
Visit the project website for more information.