D'EST: I've seen the future baby, it's sexy
29/09/2022 — 15/10/2022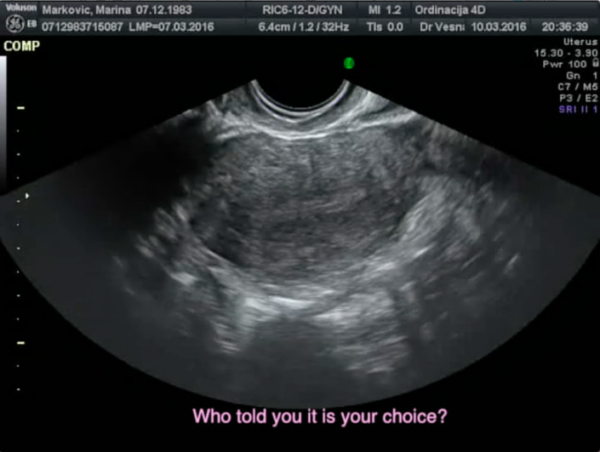 I've seen the future baby, it's sexy
Video screening
with works by Ieva Balode, CENEx, Karin Ferrari, Virginia Lupu, Marina Marković, Naomi Moonlion, Phuong Linh Nguyen, Lea Petříková, and Nataša Prosenc Stearns
Curated by Tia Čiček and Teodora Jeremić
29 September – 15 October 2022
Location: Alte Münze, Molkenmarkt 2, 10179 Berlin
Thinking about the notions of guilt and shame which seem inextricably linked to the experience of identifying as queer, woman and/or femme, the curators of I've seen the future baby, it's sexy decided to assemble a film program that imagines what a world without these feelings would look like. They understand none of these feelings as innate but rather as generated through a series of socio-cultural processes, meaning they could potentially also be unlearned, though that may be easier said than done. Subjective queer/feminine/femme guilt and shame coincide with societal notions of oppression and persecution of non-normative subjects or "the other," typically justified discursively by claiming that they possess an inherent potential to undermine a given heteronormative and patriarchal social order.
The "others," their bodies, sexualities and identities experience constant oppression within rigid power structures. Against this backdrop, a resurgence of ritual practices enacted by modern "spellcasters" on social media platforms took place over the past few years. Digital subcultures made up of self-identified Witches from diverse backgrounds are growing in size and seem to appeal especially to younger generations who feel apart from this binary and oppressive system. It appears that regardless of the individual approaches taken in their respective practices, contemporary queer, women and/or femme Witches share a desire to disrupt the established order by connecting with each other, yearning for empowerment and the freedom to explore their identities, embodying the Witch as a political subject who is in a marginalized position that holds subversive potential simultaneously.
In an attempt to rethink structures, relationships and histories that are at the root of this guilt and shame but also unique sources of knowledge and experience, Tia and Teodora have chosen works that seek to revolutionize the discourse and have the potential to direct us toward a new future. Thus, the films chosen for the I've seen the future baby, it's sexy program might be understood as a cycle of mini-oracles. Snippets of prophecies offer an opportunity to notice and pinpoint present problems and positions, but also indicate which ones might be (re)claimed, ranging from speculative storytelling mixing fact and fiction, over encounters with diverse exploitative and extractive neo-liberal practices, as well as questions regarding sexual reproductive rights and freedom, to the disruptive potential of alternative knowledge.
I've seen the future baby, it's sexy is an invitation to embark on a journey of healing and breaking through existing boundaries and oppressive structures toward building, cultivating, and nurturing new formations by means of diversifying and disrupting homogeneous cannons and frameworks that make up our lives. By accepting other ways of processing feelings, working with them rather than against them, adhering to non-normative standards of communication and work, and engaging with "hidden" knowledge, curator duo hopes to unearth a sense of empowerment to encourage self-reflection, or even support the process of unlearning the established scripts. (TJ+TČ)
The screening program I've seen the future baby, it's sexy is presented as part of the group exhibition Menstrualities from 29 September to 15 October 2022 at the Alte Münze in Berlin and represents a collaboration between Menstrualities and D'EST. The exhibition project Menstrualities was developed under the artistic direction of Halea Isabelle Kala and is part of the Menstruation Project, a long-term initiative of the Transition Institute.
– www.menstruation-project.com