D'EST
21/02/2018 — 31/12/2020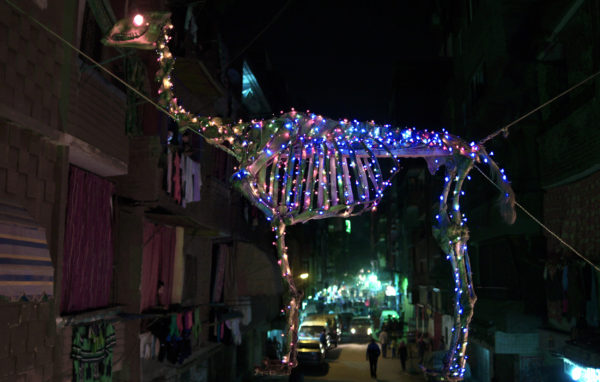 A Multi-Curatorial Online Platform for Video Art from the Former 'East' and 'West'
In the spring of 2018, District Berlin launched D'EST: A Multi-Curatorial Online Platform for Video Art from the Former 'East' and 'West', which will be accessible online until the end of 2020. The project first opened with a prolog entitled O' Mystical East and West hosted in the autumn of 2016. Initiated by cultural studies scholar Ulrike Gerhardt, the curatorial research summit will kick off to a new start in April through an open-access framework. Between June and December 2018, the online platform will publish a total of six screening chapters reflecting post-socialist transformation. Their thematic focal points delineate post-socialism along post-geographic, horizontal, and gender-critical perspectives. In collaboration with fifteen curators, fifty artists, and other cultural experts, D'EST maps out artistic forms of historiography, especially from the perspective of female and collective production.
Questions about the significance of the phase of post-socialist transformation for today's Pan-European or even global condition have met with unsatisfactory answers. The title D'EST (eng: From the East) borrows from the eponymous 1993 work of recently deceased film-maker Chantal Akerman (1950—2015). In From the East's sensitive, cinematic travelog of transformation, the artist – the daughter of survivors of the Holocaust in Poland – captures emblematic images of people waiting in a moment of hiatus just after the end of the Cold War. In the six curated screening chapters, the artists here deal with time, language, and semantics, corpo-fictionality and urban rejuvenation practices, indexical reading exercises, retro-utopia and post-genetic families of choice. The curators responsible for the project include Kathrin Becker, Eva Birkenstock, Miona Bogović, Ulrike Gerhardt, Naomi Hennig, Suza Husse, Nataša Ilić, Bettina Knaup, Katja Kobolt, Inga Lāce, Suzana Milevska, Xandra Popescu, Jana Seehusen, Creative Association of Curators TOK (Anna Bitkina & Maria Veits), and Jelena Vesić.
On five separate release dates in 2018 – in June, September, October, November and December – the platform will introduce six screening chapters in collaboration with each of the respective partner institutions in Germany (Düsseldorf), Russia (Moscow), Poland (Poznań) and at DISTRICT Berlin. The day after D'EST has shown the screening chapters publicly, the respective video works and curatorial texts will be accessible online on the video art platform. These online launches take place in association with several online-magazines and blogs which accompany the chapters.
On February 21st, 2018, the video platform first put information out online about the screening of the different chapters and curators. All video works in the chapter D'EST Prolog: O'Mystical East and West as well as their accompanying texts are already accessible. Programmed by Modem Studio, the website serves as an artistic space, research tool, and information resource for art connoisseurs, institutionally based and freelance curators, artists, historians, journalists, and critics. To be able to see all content available on the website, visitors will first have to register with the site.
If you are interested in our project, please visit and register with our website under www.d-est.com or sign up for the regular newsletter under info@d-est.com.
Prolog: O' Mystical East and West
curated by Xandra Popescu
with works by
Irina Botea Bucan and Nicu Ilfoveanu, Anetta Mona Chişa and Lucia Tkáčová, Ioana Cojocariu, Alexandra Croitoru, Larisa Crunțeanu, Gery Georgieva, Barbora Kleinhamplová, Sasha Litvintseva, Goshka Macuga, Ivana Mladenović, Anca Munteanu Rimnic and The Bureau of Melodramatic Research
Screening Chapter #1: The Suspension and Excess of Time
curated by Kathrin Becker and Jana Seehusen
with works by
Sanja Iveković, Sasha Pirogova, Eglė Rakauskaitė, Józef Robakowski, Ulrike Rosenbach and Clarissa Thieme
Screening Chapter #2: Performing Words, Uttering Performance
curated by Creative Association of Curators TOK (Anna Bitkina & Maria Veits), Inga Lāce
with works by
Željka Blakšić aka Gita Blak, Cooperative Shvemy, Coro Collective (Eglė Budvytytė, Goda Budvytytė, Ieva Misevičiūtė), Ira Eduardovna, Gluklya (Natalya Pershina-Yakimanskaya), Polina Kanis, Marge Monko and Katrīna Neiburga
Screening Chapter #3: Cosmos Cosmetics: Unsettling Memoryscapes and Corpofictions
curated by Miona Bogović, Suza Husse and Suzana Milevska
with works by
Marija Bozinovska Jones, Maja Čule, Doplgenger, Kerstin Honeit, Ana Hušman, Ilona Németh, Katrin Nenasheva, Phuong Linh Nguyen and Selma Selman
Screening Chapter #4: The Body as an Indexical Reader
curated by Eva Birkenstock, Ulrike Gerhardt and Naomi Hennig
with works by
Harun Farocki, Melanie Gilligan, Lynn Hershman Leeson, Lene Markusen, Henrike Naumann, Marta Popivoda & Ana Vujanović, Tabita Rezaire, Elske Rosenfeld and Shelly Silver
Screening Chapter # 5: We Are Family
curated by Nataša Ilić and Jelena Vesić
with works by
Anna Daučíková, Vukica Đilas, Factory of Found Clothes, Ana Hušman, Maha Maamoun,Rachel O'Reilly and Milica Tomić
Screening Chapter # 6: ReTopia
curated by Katja Kobolt and Bettina Knaup
with works by
Marwa Arsanios, Pauline Boudry/Renate Lorenz, Anetta Mona Chişa & Lucia Tkáčová, Renata Poljak, belit sağ and Katrin Winkler
D'EST: A Multi-Curatorial Online Platform for Video Art from the Former 'East' and 'West' is a project initiated by Ulrike Gerhardt with DISTRICT Berlin. D'EST is also hosted in cooperation with the Moscow Museum of Modern Art (MMOMA) the Goethe Institute Moscow, the Kunstverein für die Rheinlande und Westfalen, Düsseldorf, and the Filmwerkstatt Düsseldorf, the Galeria Miejska Arsenał, Poznań, and the Neuer Berliner Kunstverein Video-Forum.
This project was made possible through the generous support of the Senate Chancellery Berlin – Department of Culture.