House of Kal: Speculative Roadside Maduwa Ninja Kesel Fame Bitches Alphabet
— 10/08/2021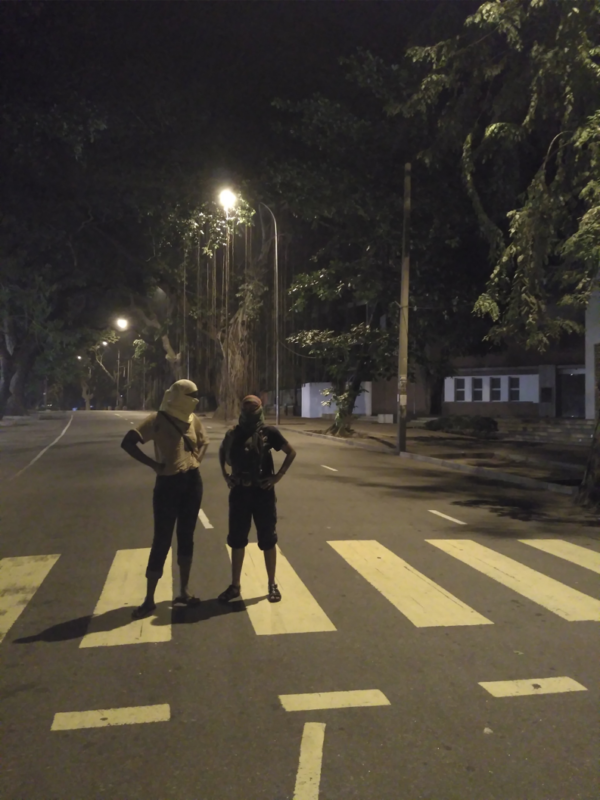 Remix for Berlin Yesterdaytomorrow (Kal): A performance in public space by Nuray Demir and Venuri Perera
10 August, 6.30 – 8 pm
at District
To make our gatherings as safe as possible amidst the ongoing corona virus pandemic, we kindly ask everyone to join with a negative Covid test and wear FFP2 masks when required.
We are faced with the reality that we will never be given the keys to a utopia architected by hegemony. Instead, we have been tasked with building the world(s) we want to live in, a most difficult yet urgent blueprint to realize. If we see culture, society, and, by extension, gender as material to remix, we can acknowledge these things as "original recordings" that were not created to liberate us. Still, they are materials that can be reclaimed, rearranged, repurposed, and rebirthed toward an emancipatory enterprise, creating new "records" through radical action. Remixing is an act of self-determination; it is a technology of survival.
– Legacy Russel, Glitch Feminism. A Manifesto. 2020
The old urdi-hindi word kal means both yesterday and tomorrow, it contains the reality of non-linear time. kal is temporal glitch. Legacy Russel proposes the glitch as a sphere of remixing, for "creating new "records" through radical action" – patterns and vocabularies from which emancipatory future pasts and past futures can be coded.
In their site responsive collaborative performance, Venuri Perera and Nuray Demir remix queer feminist technologies from their personal-collective feminist performative archives:
alphabet of fame (Nuray Demir) are acts of honouring feminist ghosts and ancestors, of (re)inscribing the battles and works of those who created the ground on which we stand today, from where we can question the status quo and fight oppression, into the collective consciousness.
Roadside Ninja (Venuri Perera) is based on long dureé everyday resistance and empowerment practices of femme, trans* and non binary bodies, Black and brown bodies in navigating and claiming public spaces dominated by patriarchal, racist and class boundaries.
Speculative Bitches (Nuray Demir) are choreographic remixes and reincarnations of female and non-binary mythological figures, deities and human heroines based on queer-feminist and postmigrant rereadings of old texts and speculative myth making.
Kesel Maduwa – A Ritual Performance</em> (Venuri Perera) is a series of neo-ritualistic practices of resistance and healing to exorcize violent ideologies, such as Buddhist nationalism and its racist brutality against Muslim minorities in Sri Lanka.
Nuray Demir works in artistic, curatorial and choreographic ways. Since 2019 she is part of the curatorial team of District*School Without Center. Her practise is distinguished by a research-based, radically transdisciplinary approach. In her projects, she forms temporary ensembles with people from various fields. She is especially interested in debates and concepts of feminist and postcolonial theory. Nuray Demir's work is informed by a critical view of social exclusion and complex hierarchical situations; it outlines artistic irritations and counter-positions, formulating a space where social equality can be imagined and empowered.
Venuri Perera is a choreographer, performance artist and curator from Colombo, Sri Lanka. Her works have dealt with violent nationalism, patriarchy, border rituals, colonial heritage, and class. Her solos and collaborative creations have been shown in Europe, South and East Asia. Since 2017, she has been exploring the power dynamics of gaze, sensuality and anonymity. Currently, she is searching for ways to create conditions for radical love and compassion in her work and life. Although mostly failing, she remains optimistic. She is currently based in Amsterdam and a participant at DAS Theatre.
This performance is part of the House of Kal Berlin, which unfolds in trans*oceanic correspondences and collaboration with the Houses of Kal Karachi and Colombo.