KLASSENSPRACHEN. debate
21/07/2017 — 22/07/2017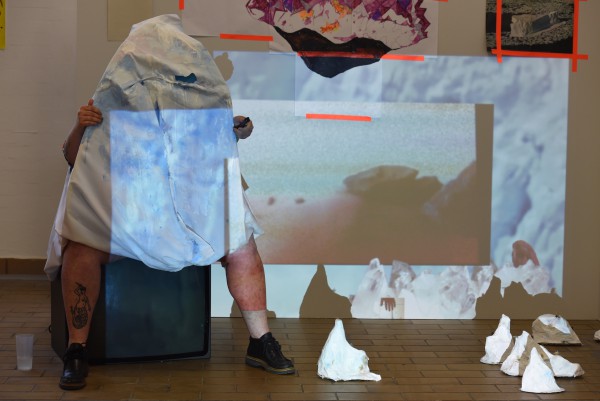 Opening programme of KLASSENSPRACHEN
21. 07.2017, 19 h
22.07.2017, 12 – 21 h
"The sign becomes the arena of C."
In dictionary entries, their initials represent terms after their first mention. Class, catastrophe, and colonialism all turn into C. Our C. stands for CLASS LANGUAGES – and thus for a terrain of antagonisms in which the political orthodoxies of the past collide with the brutalisms of the present. Questions of the translation and inscription of these divergences have become part of a current development we would like to interrogate with CLASS LANGUAGES: artistically, curatorially, in writing and in debates. In this long-term project we are invested in art as a class language as much as in the class languages of art.
FRIDAY, 21.07.2017
7 pm KLASSENSPRACHEN / CLASS LANGUAGES – Translations and Transformations 
Monika Rinck (Berlin) and Juliana Spahr (Oakland) in conversation (EN)
The debate program of KLASSENSPRACHEN opens with short presentations by and a conversation between Monika Rinck and Juliana Spahr who, from different perspectives, have both worked on the urgency that poetry may claim today: as shared process of individuation, as a terrain of collectivity, as a political form – opening up reflection on the ways that class traverses it, transforms into it and appears as the subject and object of its translation.
Monika Rinck is a writer, translator and poet based in Berlin. Her recent writings include Honigprotokolle (2012), Risiko und Idiotie. Streitschriften (2015) and Wir. Essay (2015). She curated the Poetica III (Cologne) 2017, and the poets-in-residency program Kur und Kür for Skulptur Projekte Münster 2017. See also www.begriffsstudio.de
Juliana Spahr is a writer, poet and critic based in Oakland, California. Recent publications include That Winter the Wolf Came (2015), An Army of Lovers (with David Buuck, 2013) and Everybody's Autonomy (2001), a.o. Together with Jena Osman Spahr, she edits the book series Chain Links, and with Joshua Clover and Jasper Bernes she edits Commune Editions.
SATURDAY, 22.07.2017
12 am Performance Hanne Lippard (Berlin) / Response Marlene Streeruwitz (Vienna) (EN / DE)
1 pm Lecture Marlene Streeruwitz (Vienna) / Response Hanne Lippard (Berlin) (DE / EN)
In this reciprocal format, artist, performer and poet Hanne Lippard (*1984 Milton Keynes) and poet, playwright and novelist Marlene Streeruwitz (*1950 Baden upon Vienna) present to each other one of their works and mutually comment upon it. In both their writings and stagings, though from very different vantage points, the question of femininity features as a social locus and space of (classed) violence that is distinguished by how language is processed and embodied.
Hanne Lippard is based in Berlin. Recent shows include Flesh, KW Berlin (2017), FOAM, LambdaLambdaLambda, Prishtina (2016) and Fluidity (group show), Kunstverein in Hamburg (2016). Her new book This Embodiment was just released with Broken Dimanche Press, Berlin. See also www.hannelippard.com
Marlene Streeruwitz is based in Vienna, London and New York. In the last decades she has published widely in literary and poetic forms and has authored audio plays and theoretical essays. Recent publications include Yseut (2016), Wahlkampfroman (2016), So wird das Leben (2016), Poetik. Tübinger und Frankfurter Vorlesungen (2014) and Nachkommen (2014). See also www.marlenestreeruwitz.at
3 pm Politisch publizieren / künstlerisch publizieren: Einige Modelle
Fehras Publishing Practices (Berlin), HATE Magazine (Berlin), Phase 2 (Berlin/Leipzig) and Starship (Berlin) in conversation (DE)
This panel is dedicated to different publishing formats that have taken the regular, continuous as well as variable form of the magazine as their starting point but do not necessarily still produce within its frame. As an irregularly published print magazine, HATE MAGAZINE was founded in 2008 in Berlin and today primarily operates as an online format. Phase 2 was established in 2001 as a discussion platform of the antifascist and radical Left, as a printed form of their debates. What is at stake here – as is with Fehras Publishing Practices that exist in Berlin only since 2015 – is the shifting manifestation of political form in print. Fehras Publishing Practices adjusts its form to the respective format that its subject matter – the presence of North African and Middle Eastern publications in the English-speaking art world – assumes. Within this art world, Starship exists since 1998. As an artists' and art magazine Starship has continually altered its mode of presentation, like Fehras, adjusting it as artistic form in relation to its subject matter. Using the example of these different publishing practices, the panel negotiates the question of artistic and political forms of radicality in print today.
6 pm Writing Towards an Aesthetic Practice? Writing Towards Art?
Justin Lieberman (Munich), Rachel O'Reilly (Berlin) and Josef Strau in conversation (EN)
The three artists and writers brought together on this panel have worked with largely different forms of writing as part of practices that do not seek to define art as a safe haven for aesthetic forms, but rather expand artistic production to a more general sense of aesthetic authorship – a sense of risk. In this panel, the question of risking art as an aesthetic practice is dedicated specifically to the roles language can play therein – and has been playing in the work of Lieberman, O'Reilly and Strau.
Justin Lieberman (*Gainesville, FL) is a Munich-based artist whose recent shows include Installation View, Galerie Christine Mayer, Munich (2016), Je t'Empire, Le Confort Moderne, Poitiers (2015) and Squeezed Relief, Martos Gallery, New York (2014). Latest publications include The Corrector's Custom Pre-Fab House (2015), Address to the Student Art Collective (Adjunct Commuter Weekly, 2017), Michel Auder's Machinic Bohemia (2010/14) and Hopi Basket Weaving (2006). See also www.justin-lieberman.com
Rachel O'Reilly (*Gladstone, AU) is a poet, critic, artist and researcher based in Berlin. She teaches at the Dutch Art Institute and has recently collaborated with Natasha Ginwala a.o. on the public program of the Contour Biennial (2017). O'Reilly has co-authored the book On Neutrality: The Letter from Melos (2017) with Jelena Vesić and Vladimir Jeric and has presented her ongoing artistic work The Gas Imaginary (2016-) at different places, amongst them the Gladstone Regional Art Gallery and Museum (2016) and The Jerusalem Show (2017).
Josef Strau (*Vienna, AT) is an artist based in Frankfurt and New York. His recent solo exhibitions include Künstlerhaus Bremen (2017), House of Gaga, Mexico City (2016) and Secession, Vienna (2015). Strau has written widely both within the frame of his own practice as well as for catalogues and magazines. Amongst others, his publications include the essay "The Non-productive attitude" (2006), and most recently the books Dreaming Turtle (2015), The New World 2, Travels in Turtle Island (2015) and The Atlantis Search Engine (2013). In 1990, together with Stephan Dillemuth, he founded the artist-run space Friesenwall 120 (Cologne), and 2002-06 he was the curator of Galerie Meerrettich at the Volksbühne (Berlin).
8 pm After the Ice, the Deluge
Performance Linda Stupart (London) (EN)
In their performance, part of their exhibition contribution, Linda Stupart will engage with the queering of scientific language, the burden of objects/image as proof and the relation between bodies and horror/abjection through the intersection of two divergent subjects: Morgellon's syndrome and the melting polar ice caps.
Linda Stupart (*Cape Town) is an artist, writer and educator based in London. Recent solo exhibitions include A Dead Writer Exists in Words and Language is a Type of Virus at Arcadia Missa, London (2016), where Stupart also launched their debut novella, Virus (2016). Stupart's work has been shown/performed at Matt's Gallery, The Showroom, a.m. gallery, the ICA and Guest Projects in London. See also www.lindastupart.net
CLASS LANGUAGES is a long-term collaboration initiated by Manuela Ammer, Eva Birkenstock, Jenny Nachtigall, Kerstin Stakemeier, and Stephanie Weber.
KLASSENSPRACHEN at District Berlin is funded by the Hauptstadtkulturfonds Berlin. With kind support from Cine Plus and Jungle World.